By Henry L. Goldberg, Managing Partner, Goldberg & Connolly & STA Legal Counsel
As is commonly recognized in the construction industry, the posting of a payment bond for a public improvement project is required under Section 137 of the State Finance Law. This is obviously designed to "guarantee" payment to those subcontractors and suppliers who provide labor and/or furnish material on a project. Payment bonds, of course, are also often available on private sector projects. However, there are certain beneficial aspects of a payment bond that are not as well known in the industry and there are important dates that must always be observed to preserve your payment bonds rights.
A. Perfecting A Subcontractor's Bond Claim – For Other Than First Tier Subcontractors
In order for a subcontractor, other than one who has a direct contract with the general contractor, to preserve its claim under a payment bond, it must serve notice upon the contractor, by registered or certified mail of its intent. This must be done within 120 days (on Federal "Miller Act" projects it's 90 days) from when the subcontractor last furnished materials or provided labor. The notice must simply state that the claimant has not been paid for over 90 days, the total amount owed, a description of the work or material and that the sub or material man is making a claim for non-payment under the payment bond.
B. Later Suit Commencement Date For Public Projects - New Rule
Thereafter, an action to enforce a payment bond claim must be commenced in the county where the project is located, within one-year from completion and acceptance of the project by the public owner.
This reflects an important recent change in the applicable rules. The starting time for the one-year suit limitation period is now similar to the time period for the filing of a public improvement mechanic's lien (although for a public improvement mechanic's lien, the actual last date to file is 30 days after "completion and acceptance" of the project). In the past, the contractual limitation period began to run one-year from when the subcontractor last did work on or provided materials to the project. This often created a question as to when this actually occurred. For earlier trades, it also presented a risk, since the sub or supplier may have completed their efforts long before the entire project was completed. By that later time, the period to sue under the old law (based on their own time on the site) may have expired.
In contrast to the time to sue, as indicated above, the rule regarding initial notice by other than a first tier subcontractors has not changed. The 120 day notice of claim requirement still begins to run from the date on which the subcontractor, itself, last furnished labor or delivered materials. Note that warranty or repair work, generally speaking, does not re-start the 120 day clock anew. While we have been able to convincingly use such repair or warranty work to save certain claims under the right set of facts, risking your claim by inaction is not a best practice. Start early.
C. Interest & Attorney's Fees
Both of these benefits are often either over-looked or not adequately pursued. Interest is clearly available for payment bond claims made in the public sector pursuant to State Finance Law §137. Even in the private sector you may be entitled to pre-judgment interest as well as, of course, post judgment interest at 9%! Hold fast on your demand for interest. It should not be the first casualty of settlement negotiations.
A second misunderstanding is that the trust fund provisions of Article 3-A only apply to public works projects. This is also not true.
A third misunderstanding is that a trust fund beneficiary, such as a contractor, subcontractor or materialman, is only entitled to a written verified statement of all funds received by the trustees and all funds paid out by the trustees from those funds. However, the itemized statement of account is certainly not the beneficiary's only option.
In addition to awarding interest from the date when the subcontractor first demanded payment, courts may also award a contractor reasonable attorney fees whenever it appears to the court that the reasons set forth by the surety for not paying the bond claim were without "substantial basis in law or fact." In other words, they were merely pretextual and the claimant, as a result, deserves to be reimbursed for its attorney's fees for having been put to the expense of suing the surety.
D. Bond on Private Project
While not mandatory on private projects, it is becoming more common, given the size, complexity and cost of large development projects today, for owners or developers, or more likely, their lending institutions, to demand bonding, despite the cost, to assure that subs and suppliers are paid.
E. Always Get a Copy of the Actual Payment Bond
In every instance where a bond is required under either a public or private improvement contract, it is essential for a subcontractor to request that the general contractor provide a copy of the payment bond before the sub commences work. This must be a standard operating procedure. If a copy of the bond is not readily provided upon request (and, surprisingly, this is a rather common occurrence), the subcontractor can usually obtain a copy of the bond from either the agency in charge of the public improvement, or the Comptroller's Office, as both are required to maintain copies of bonds on all public improvement projects. For private projects, this is even more critical, since the time deadlines mentioned above can vary amongst private sector sureties, even if the standard AIA A213 Form is utilized. Also, the contact information for the surety, and information identifying the bond, is clearly set forth on the bond.
G&C Commentary
Some would say that the foregoing is "basic," that everyone knows of these protections. They are "bread and butter" issues.
I beg to differ. For many of you, that may be true, but I am here to report "from the trenches" in the battle for fair and timely payment, that poor payment practices are epidemic in the industry today and that subcontractors and suppliers are not availing themselves of all these "well known basics."
The STA has fought long and hard, for decades, to obtain and protect these important rights. The amendment to the State Finance Law extending the time to commence a lawsuit enforcing a payment bond up until "completion and acceptance" of a public project, is just a recent example.
Sometimes, fear of upsetting a business relationship causes inaction, sometimes just lack of knowledge, and sometimes just "being too busy." I've heard it all. However, these "excuses" all have the same result – a severe hurt to your business that could have been avoided.
Remember, if these protections are all "so basic," why are you not using them?
Finally, in order to help keep clear the nuanced differences discussed above among: 1. public and private projects; and 2. notices of payment bond claims, as distinguished from payment bond lawsuit commencement dates, I've prepared the following chart for your convenience: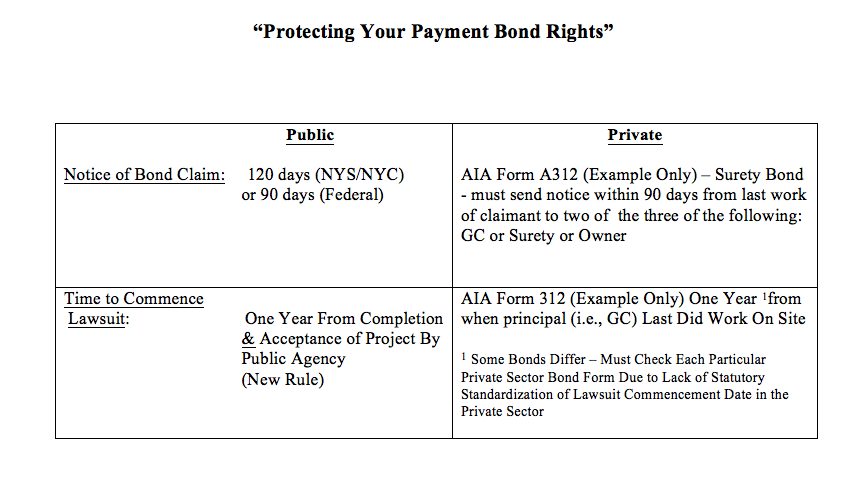 Henry L. Goldberg may be contacted by email,
hlgoldberg@goldbergconnolly.com
or by telephone, 516-764-2800.